I'm definitely having a Christmas in July experience, like looking at holiday shop window displays, I've been given the opportunity to display my fiber art and quilts in a local shop window.
Last night I met up with some friends of mine at the shop who helped hang some of my art in the front window – thanks Georgia & Chris!  🙂   I wasn't sure quite what to expect so I brought a bunch of pieces and we went to town holding up this one, then that one, to figure out how to lay them out on the wall.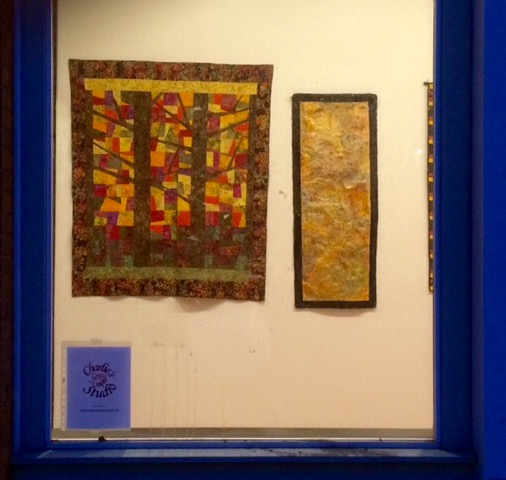 The shop is on Main Street (Rte. 190) in Stafford Springs, CT (my home town). The building is being beautifully remodeled and the space to display in is amazing with great overhead lighting.
After we were done we went across the street for dinner. It was dark when we left the restaurant so we went to see how everything looked at night.  The warm glow of the overhead lights pouring over my art on a big white wall made me feel like I'd actually received a Christmas present in July.  Thanks again Howard Buckland for the opportunity!!