Quilting serivces are performed on my APQS longarm lovingly named "Ellie".
 My Mission
You design your quilts by selecting a beautiful pattern, and completing the quilt with your own unique fabric combination –
Shouldn't the quilting be uniquely your own?
Ellie and I specialize in Free Hand edge to edge quilting with such designs as: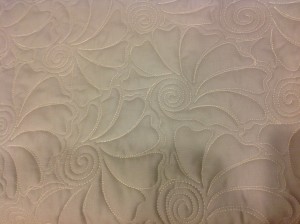 Whirling Leaves
Shooting Stars
Petal Power
Breezy Ferns
(see Gallery page for additional photos)
This is an ever growing list as I am continually creating new designs based on Your:
quilt patterns, custom requests, sometimes the fabric used in your quilts.
Ellie and I also perform Pantograph designs and award winning Custom quilting.
A Stitch Out Sample Book of some of my Free Hand edge to edge designs is available for review.  Samples stitched on: printed fabric on one side, and tone on tone on the other, to help narrow down your selection process for both quilting design and thread.