LECTURES 
include a trunk show, some include Power Point
Not Your Grandmother's Wholecloth
A brief history of wholecloth quilts, the new techniques used to achieve trapunto effects and where the trends in whole cloth are going from long arm to domestic machine quilting.
Crazy Quilts – Facts and Fabrications
What's the difference between a Crazy and a Contained Crazy? What do tobacco silks, ready-made embroidery, and paint transfers have to do with Crazy Quilts?  This lecture and trunk show will walk you through some Crazy Quilt history from the plain janes to the fancies.  Let's recognize and dismiss some Crazy myths and see what other new tidbits we can uncover along the way.
Creative Muscle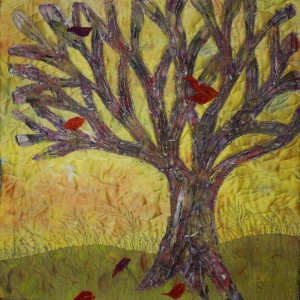 Don't feel like you're as creative as you'd like to be? Looking for a little direction on kicking off or growing your creativity?  Science has proven, creativity as a natural talent is a myth – lets stretch our creative muscle in the traditional quilting and fiber art realm.  We'll take some of the fear out of creativity by defining a path you can explore to expand the creative options to consider when quilting.  From changing up color to melted quilts, here's a path to help you BREAK the RULES!!
Chaos and diversity are drivers of creativity – why not CREATE A LITTLE CHAOS???
Confessions of a Fusing Fanatic
covers the different fusibles, bias fusing, what not to do, some great tricks and the different and unusual materials that can be fused (ex. used dryer sheets).
Ellie's Favorite Things
Ellie is my long arm machine and she loves when I share how to be best friends with your longarmer and her/his machine.  A little on the history of quilting for hire, recommendations for working with your longarmer, how different threads produce different results, differences in battings and how piecing issues are not "quilted out" – they're actually quilted into the finished quilt.
WORKSHOPS
Fabulous Fused Flora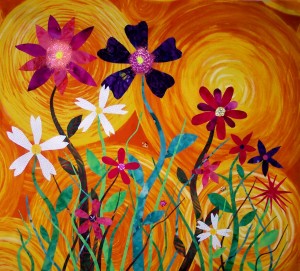 Not the green thumb type? – Come garden with an iron, we'll fuse some full blooming flowers to bring a little Spring into your home year round!! Learn to "free cut" fuse some beautiful blooms atop bias cut stems, then embellish them with stamped Angelina and beads for a great Spring wall hanging.
Angelina Table Runner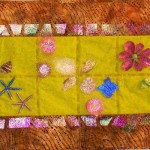 How many ways can you use Angelina? How many types of Angelina are there?  Try out an assortment of techniques for using Angelina and discover a new option for adding bling to your quilts.
Quilted Scarves
Don't knit? – neither can I but how would you like to make a scarf that looks knitted?  Feed dogs up or down this is a fast fun project where you can use lots of fun yarns or include some scraps of fabric (I like to include velvets and other non-traditional fabrics).  Kit fee applies.
Beginner Beading
Learn some basic beading stitches to create a sewing kit that will be the envy of every Quilting Get Together!!  Then use the techniques and bling up your wall hangings and quilts!