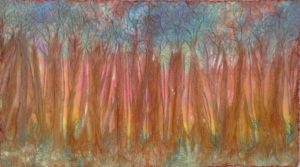 Last weekend was the 87th Lost Acres Quilt Happening http://www.lostacres.com/. My Mom and I have been attending about 17 years, and my Aunt and Grandmother have since joined in on the excursion!  There are three Happenings per year and the summer Happening has a wonderful buffet of fresh, homemade foods to sample that shouldn't be missed!!  There are also items for sale: quilts, quilt tops, blocks, fabric and more – I purchased a hand quilted pillow this time (Thanks Mary!)
The day consists of:
A little socializing and shopping
A lecture
Food with more socializing and the ongoing opportunity to shop
The lectures are usually historical or quilt specific (applique, sampler, etc) in nature but for a change, Ginny decided to cover some of the ways quilting has changed with time. One woman covered her methods for completing a multitude of baby quilts for donation, two other women covered their different approach to a town green (with surrounding town buildings) style quilt.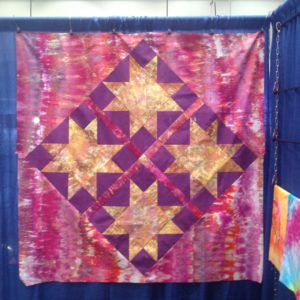 This is the first time Ginny has asked me to speak, and I was honored. I talked about how I moved into hand dying fabrics and the different lines I've come to carry: print, tone on tone, trees, landscape, starburst and snowflakes series of fabrics.  I also showed some of my new – Quick Quilts with Hand Dyes pattern samples.  That was the highlight, from their we covered in depth, the different opportunities the hand dyes offered for feed dogs up and feed dogs down machine quilting, specifically LOW STRESS introductions to MACHINE QUILTING, for example:
Baby Quilt in 8 hours, including binding with the feed dogs up on the Snowflake fabric

Baby Quilt in Eight – feed dogs up machine quilting, 8 hrs includes the binding YEAH!!

Renegade Hawaiian Quilting with feed dogs up (quick table runner) Quilt As You Go & feed dogs down
The beauty of hand dyed Velvet as a doodle practice piece for free motion quilting
Beginner free motion & thread painting on the Threaded Forest (tree fabric)
Of course I included a trunk show. All was quiet while I spoke so I think it's safe to assume it was entertaining or informative or both.  Actually, based on the compliments (thank you everyone) later, I think I'll add this topic to my lecture listing – who knew there was so much interest in stress free ways to explore machine quilting.