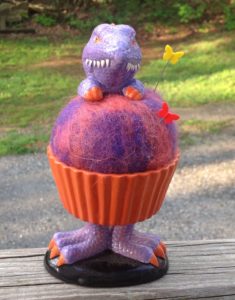 I love finding things new homes, from scraps, to orphan blocks, to pincushions. For those of you who've seen my booth, you know I love making fun little (some not so little) pincushions.  They are 100% wool (lanolin lubricates the pins) beads combined with oddities I find here and there that are crying for a new purpose that will find them a new home.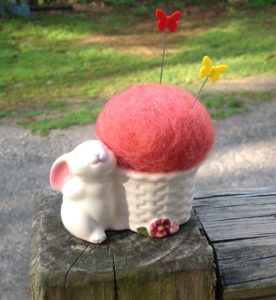 Last show I brought the Atlantic City Camel, this guy was cute as a button with a hundred old pins – three people were very interested and he found a good home. An elephant I had been holding on to for a while finally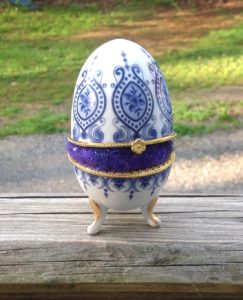 had the right color wool bead (sometimes what's in my head doesn't work out with the finished piece) – his trunk was up so he'll bring lots of luck to his new home.  And, this beautiful egg for which I made a wool bead with sparkles also found a new home.
Just for fun, here are some of the others in the menagerie.
Please don't think this is a sales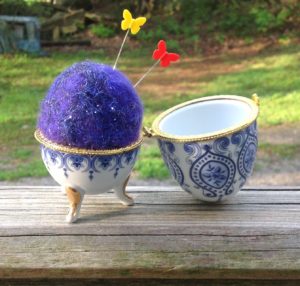 pitch, I learned the hard way long ago not to buy anything I didn't want to ultimately own – I can show you a couple quilts I'd rather not own (expensive lesson). This is just a fun little tour of some of my menagerie.
By the way – Gavin the Dragin found a home this morning.