H Block Quilt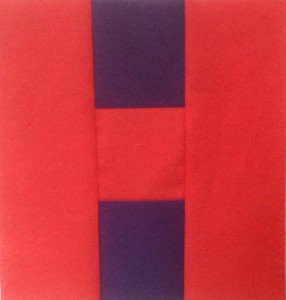 I've started a new quilt, a mix of contemporary and tradition which many would say matches my quilting personality. Contemporary in the center design and traditional, with an overall Amish feel, in the overall design.  At least that's the current plan, then again I tend to change my mind as I go.
The quilt was inspired by a "Joe the Quilter" Cunningham's http://www.joethequilter.com/gallery.html  two color quilt that was on display at Vermont Quilt Festival last summer.  His quilt was based on a block he called the "Sisters" block which kind of looked like the letter "C" in some of the blocks.  He varied the block design by manipulating the piecing placement so I can't be sure what the original block looked like (the quilt is on his front page, it's red and purple also).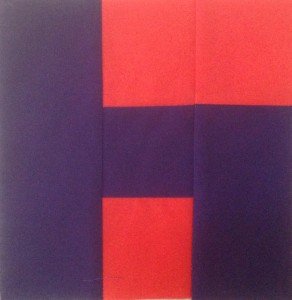 I chose a center block representing the letter "H" where my rule for this quilt is whatever color is somewhere in the center strip must also be in at least one piece on each side strip. I began with upper case "H's" then made lower case "h's".  Now I'm adding unrecognizable "H" or "h" configurations – sooo much fun, how far can I stretch the idea and in how many variations.  My other self-imposed rule is an upper case "H" in each corner.
My center design will be on point, another difference from Joe's quilt. It will have a final border to bring both colors from the center design out into the borders.  If I remember correctly Joe quilted his in feathers, I'm looking forward to getting a little insane with a traditional quilting design, it's still very much in the planning stages at this point but I'll post some in progress pictures as I go.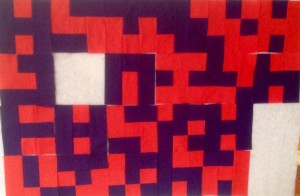 I don't think it will be minimalist enough to be considered modern, I hoping for a strikingly Amish flavor of contemporary.