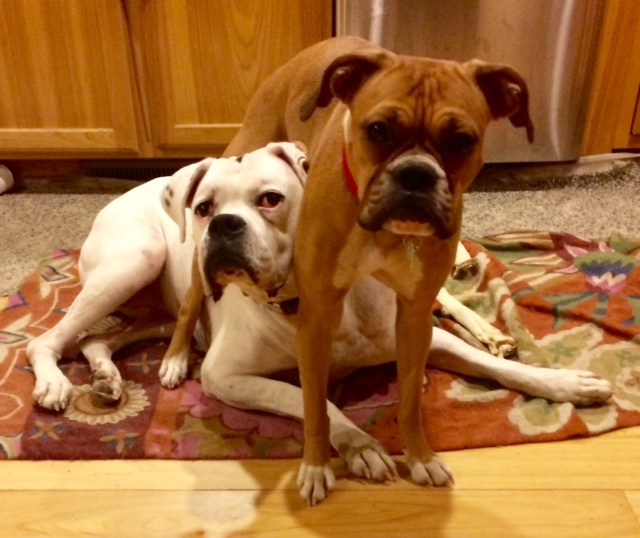 Last New Year's Eve we adopted Bella the Boxer which quickly slipped into Bella Boo, then to Boo Boo and since we have two boxer they temporarily became Boo Boo and Yogi (sorry Pete). Since the sound of Boo Boo reminded me of Betty Boop – finally, (hopefully) she is now – Bella when she's in trouble and Boopy the rest of the time.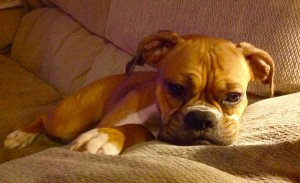 Boopy is a rescue dog with visible and invisible scars, she's quite the little singer and although Doggie Daycare loves her they've deemed her the Mexican Jumping Bean 😜.  The invisible scars mean she's also attention needy, thus a quilting puppy:
When I stand at my long arm there is a big dog bed underneath it which both dogs occupy regularly, but Boopy, being a puppy, gets bored rather easily.  When she's bored Boopy likes to jump (we're working on this).  The other day I had a quilting deadline and she wouldn't stop jumping so,… I picked her up like a child and put her on my left hip, her front paws on my shoulder, and proceeded to quilt with my right hand (yes quilting one handed can be done, it's the only way to "quilt things out").  She watched the quilting for a while but, as luck would have it, was again bored easily and ready to get down and explore some other adventure.
I forgot how inquisitive Pete was when he came to hone from the Humane Society .  Boopy has broken a stained glass lamp among other things but Pete broke three crystal wine glasses, ate a bag of cookies and loaf of bread all in one day when he was younger – LOL.
Puppydom and quilting – not always the best mix, but an exciting one none the less! – did I tell you she likes to sit on my lap while I piece at the sewing machine???🐶