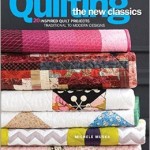 One of the Guilds I belong to is
Enfield Quilter's in Enfield, CT
I have been  Program there for a bunch of years.  I'm excited about our first meeting this year –

Thank you Michelle Muska for agreeing to bring some quilt samples from your book and offering to sign both books people bring or ones purchased that night.
Enfield Quilter's first meeting is
Wednesday, September 16, 2015 at 7pm, at the Enfield Street School
In addition to Michelle's book signing we'll be going over the 2015 schedule, lectures and challenges.  I'm excited about a couple of our other events and lecturers too, but need to leave those details until the meeting.
Please join us!!