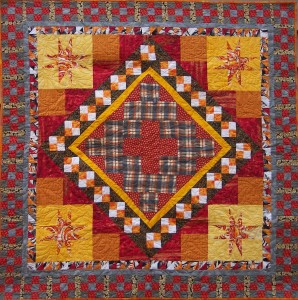 As one of the Galleries on my website shows, I love working with orphan blocks and unfinished old quilt tops to help them find a new home (Antique Orphan Fun). If it's really scary looking (beyond-only a mother could love) or has lots of holes I like to take tops apart and put them back together, or I just put a bunch of antique orphan blocks together.  I was so inspired when I stumbled upon this video, this is Mary Ornish upcycling old quilts that are BEYOND REPAIR into clothing I just had to share it!
https://www.youtube.com/watch?v=AZ2bhohM70k
As the disclaimer states, please don't cut up perfectly good quilts to do this, there are plenty of orphan blocks and broken bits and pieces to play with. There are generally lots of orphan blocks around in need of a good home, in fact, one of my favorite things to do at a show is go on a hunt for, "The Ugly Orphan".  I then challenge myself to use it in a quilted item.  My 1830's quilt began from one ugly orphan that was incredibly crooked and has orange and grey plaid in the block.
Please consider finding orphan blocks a good home, a sampler style quilt is just one way to find them homes as donation quilts for those in need.
That said, Mary Ornish is incredibly talented, what beautiful and inspirational clothing – what's old is new again – YEAH!!