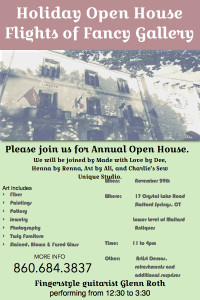 Where will I be the Sunday after Thanksgiving ( November 29th, 2015)??? – at one of my favorite events of the year – Flights of Fancy Gallery's Open House.    Why might you ask is this one of my favorite events, because of the combination of happenings occurring simultaneously:
Live Music – acoustic guitar played by fingerstyle guitarist Glenn Roth 12:30 – 3:30 http://www.glennroth.com/
Artisans – invade the Antique shop co-located with the Gallery – this year has a French Open Market theme so the variety of artists should be intriguing (click on the postcard above to see more details)
Art – Flights of Fancy Gallery in the lower level offers the work of painters, potters, fiber artist, photographers, glass artist, twig furniture maker, felted accessories and more. The products range from bookmarks to framed oil paintings, etc. http://www.pondhousebb.com/html/artgallery.htm
Antiques – from furniture to collectibles, I always find something I can't live without (last year was a working Treadle Sewing Machine that became a Christmas present from my Honey) http://mallardsnest.com/
Food – the Gallery owner Georgia is a wonderful baker, she makes breads, treats and drink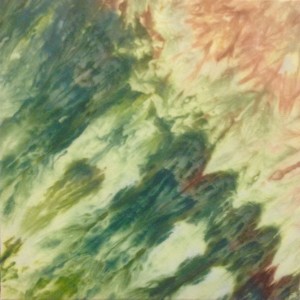 It's a laid back end to a busy long weekend, a place to just relax, enjoy some music and take in some art.  It's also the perfect place to find that certain something for that someone who has everything.  Hope you can make it!
Flights of Fancy Gallery, 17 Crystal Lake Rd, Stafford Springs, CT