So I was up bright and early last Saturday, off to set up our booth at Annual Gathering. Friendship Quilters of Windsor found a great venue with nice lighting and room for all!  We were set up across from Ami Simms booth http://www.amisimms.com/, speaker for the day, which meant we had ring side seats to her lectures.
There were lots of attendees, the guild offered a quilt raffle, quilted sweatshirt raffle, a silent auction with some great items, and plenty of complimentary food! – YUM 🙂 Everyone seemed to enjoy themselves especially Ami's lectures, if you were there for the first one,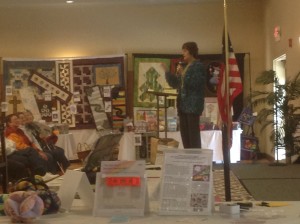 "HOW NOT TO MAKE A PRIZE WINNING QUILT"
then you definitely wanted to stay for the second
"LIVING WITH QUILTS: A SURVIVAL GUIDE".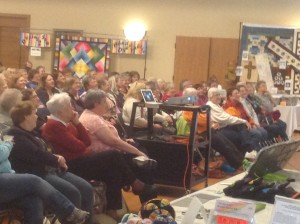 This was my third time attending an Ami lecture and she gets better every time! Ami had everyone rolling in the aisles, her down to earth quilting humor and slides assured us that we were not fabric hoarders, nope we weren't – Ami provided photographic proof that people find the most unusual places to stash their stash, and that we all start somewhere and eventually our skills improve – all with a lovely bit of humor.  The room was full of laughter and isn't laughter great, I think it's like a little break from reality.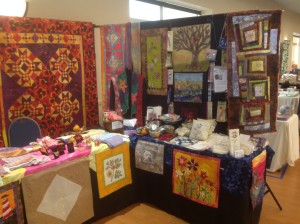 I presented a demo on Fusing Basics. It was well attended with lots of quilters asking lots of questions – yeah!  I had to beg forgiveness at the demo after starting early, it was only a couple minutes so I started again. Mumzy brought vintage lace and feed sacks to sell and I brought hand dyed fabrics and pincushions, the tables had a multitude of other items too.  We had great fun visiting with everyone who stopped by the booth – what a great day –  good friends, good quilting stories, and plenty of laughter!!!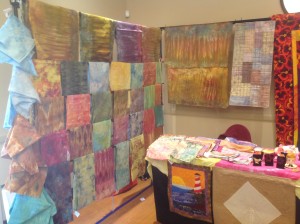 Thanks Friendship Quilters of Windsor, great job!!