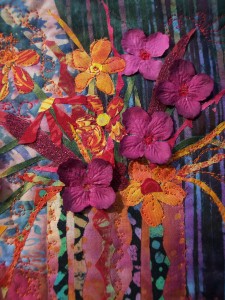 I am a tactile artist, a longarm quilter who loves stitching and creating. The challenge to create in fiber by adding anything I can find to enhance the final work – beads, paint, roving, thread, paper, metal, recycled items, for me, is the joy in rediscovering again and again the creation of art from bits and pieces.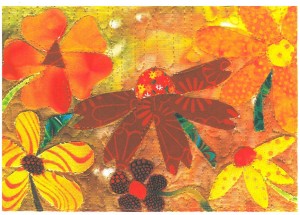 I live in the woods of Connecticut and gain much of my inspiration there. I prefer designs incorporating organic curves – the way a flower stem sways in the wind or the natural curves of a winter sky in the forest where the branches dance in harmony. I look for balance in movement, design, and color across my pieces, even dyeing and painting my own fabrics to achieve the desired result.
I am currently exploring a series of work in large scale, incorporating unusual techniques such as painting and applying translucent layers, then burning them for background texture, essentially creating my own fabric. A bit of an extremist, I also enjoy limiting myself to working solely with thread, overlapping it in patterned designs, again creating my own fabric. I relish the processes, the possibilities, and the finished piece.